You are invited to…



The

HAUNTED WOODS

to benefit the Oldbridge Food Bank

Donations to the foodbank are down this year. If you are able to donate a little extra this year, it would be greatly appreciated.

Due to the weather, we will be closed Sunday, October 29th.

7:00 pm - 10:00 pm or later?

7:00 pm – 9:30pm




Special Twilight Viewing Saturdays and Sundays from 3:30 pm - 6:00pm - (live actors are not present)

Please bring a food donation for the old bridge food bank to gain entry to our haunted woods. We will be selling hot drinks such as hot chocolate, hot cider and coffee at the conclusion of the walk through as well as some baked goods. These proceeds benefit our cub and boy scouts so we really appreciate if you purchase something.

75 Springhill Rd. Oldbridge, New Jersey.
off Cottrell Rd. near Rt 34.

The haunted woods is an annual event that takes place in Oldbridge, NJ, the last two weekends in October. It is a walk through our haunted woods filled with displays, lights, sound, and live actors lurking about. The Scouts from Pack 67 and Troop 167 along with friends and family run the event and help populate the woods. Come join us and be prepared to be scared...

Please bring a non perishable food item for the Oldbridge food bank (please check expiration dates). We will also be happy to accept donations to the Oldbridge animal shelter.

The scouts will also host a bake sale with delicious homemade baked goods as well as hot chocolate, hot cider and other beverages. Proceeds from the bake sale benefit the Troop and Pack

For more information, email Barbara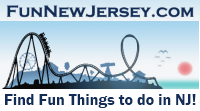 Shop Unique NJ Themed Gifts, Memorabilia and Souvenirs
This site is under constant construction. email
Webmaster
with any broken links.